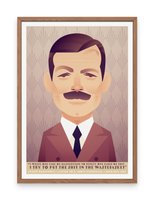 Ernest Hemingway Print
NEW FOR 2023.
Limited edition Letters of Note print designed by Stanley Chow, featuring a quote from an Ernest Hemingway letter to F. Scott Fitzgerald:
"I write one page of masterpiece to ninety one pages of shit. I try to put the shit in the wastebasket."
Limited run of 500 prints. A3 only. Giclée print on 300gsm Matte Satin Archival Quality paper.
BUY A PRINT
PRAISE OF NOTE
Funny, tragic, brilliantly incisive, historic, lyrical, romantic and studiedly offensive, this stupendous compendium of letters ancient and modern is my book of the year. You will never tire of it.

Stephen Fry (on Letters of Note)
Another mailbag stuffed with funny, heartbreaking and passionate letters … engaging, eclectic, geekily and gleefully enthusiastic and laugh-out-loud funny.

The Times (on More Letters of Note)
Damn it if Usher hasn't done it again. A deeply moving book.

Big Issue (on Lists of Note)
It is hard to see how Letters Of Note could ever be surpassed.

Mail on Sunday
Quite literally the most enjoyable volume it is possible to imagine. Every page is a marvel.

The Spectator (on Letters of Note)
The literary equivalent of a box of chocolates – bite-sized and pure addictive pleasure … The result is beautifully produced, with photographs and colour facsimiles of much of the correspondence. A gorgeous Christmas present.

Sunday Times (on Letters of Note)
A truly extraordinary reading experience.

Big Issue (on Letters of Note)
Fascinating. One to put on your, ahem, Christmas list.

The Observer (on Lists of Note)
Very handsome. Just as engrossing as Letters of Note.

The Spectator (on Lists of Note)